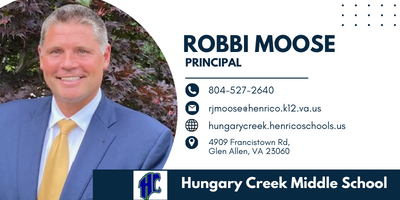 Dear Cougars,
Welcome back to the 2023-2024 school year!!! As we embark on another exciting year of learning and growth at The Creek, we are thrilled to have you and your children as part of our school community.
This year holds special significance for us, as we celebrate two decades of "Proud Past, Bright Future - 20 Years of Teaching, Learning, and Innovating at The Creek." Over the years, we have witnessed countless achievements, unforgettable moments, and a strong sense of camaraderie among our students, parents, and staff.
The theme "Proud Past, Bright Future" encapsulates our collective journey towards excellence in education. Our past achievements serve as a solid foundation upon which we will build an even brighter future for our students. With your continued support and collaboration, we are confident that this academic year will be filled with remarkable accomplishments and memorable experiences.
Our dedicated team of educators is committed to providing a nurturing and stimulating environment that fosters creativity, critical thinking, communication, collaboration, and personal growth. As we commemorate our 20th anniversary, we will reflect on our successes while embracing innovation and exploring new opportunities for improvement.
Throughout the school year, we will organize various events and activities to celebrate our journey so far, including alumni reunions, community outreach programs, and collaborative projects. We encourage all parents to actively participate in these events and be an integral part of these celebrations.
Communication plays a vital role in maintaining a strong school-home partnership, and we are committed to keeping you informed about your child's progress, upcoming events, and any important updates. We encourage you to stay connected with our teachers, administrators, and fellow parents through our multiple communication tools including ParentSquare, Schoology, and our Social Media sites.
Let us all come together as one strong community, dedicated to providing our children with the best possible education and support. With the "Proud Past, Bright Future" theme guiding us, we are confident that this year will be filled with achievements, growth, and cherished memories.
Once again, welcome to The Creek, and let us make this academic year the best one yet!!!
You can follow HCMS on Facebook and Instagram.
Cougar Camp for Rising 6th Graders & Parents:
August 10th from 9 AM - 12 PM

Students may arrive as early as 8:45 AM.

The dress is school-appropriate casual wear.

PARENTS - We have a camp for YOU, TOO… In a separate area, we will have activities planned to help you with the transition to middle school, including…

A humorous overview of the "typical" middle school mind

A tour of the school facilities & an overview of our security & safety plans

A glance at this year's bell schedule

Tips from veteran parents on supervising homework & studying, helping your child with organization, & encouraging school involvement, etc.

An introduction to our wonderful PTSA

Your Digital Learning Overview training

Answers to your burning questions & concerns
From the PTSA:
Hello Cougar Families!!! We hope you are having a wonderful summer. We are so excited to meet our new Cougars at Cougar Camp and can't wait to see our returning Cougars at Open House and Back to School Night!!!
A few updates and asks to help us make this year at The Creek the best one yet!!!
Please help us grow our budget to continue to provide great memories and opportunities for our students and staff at The Creek! Two easy ways to get involved:
Join the PTSA! Various levels are available. Consider joining now to skip the lines.
Sign up for these awesome retail promotions!
We have partnered with several great companies in the community to help fund activities.
Mark your calendars! Our first spirit night is already on the books and it's a popular one.
• Ashland Skateland- 516 N Washington Hwy, Ashland, VA 23005- Wednesday, 8/23 6-8 pm $7 admission and $5 skate rental (if you don't bring your own)
More amazing spirit nights are being confirmed… stay tuned!
The Cougar Watch program is back!!! This program opens volunteer opportunities to help around the school where help is needed and to maintain safe school days for our Cougars. Come for a couple of hours or the whole day, you will have a great time. More information to come on how to sign up (and link to volunteer registration with HCPS).
Lastly, like us on Facebook! Keep up to date on everything going on and view pictures of events.
Thank you for your continued support. We are looking forward to the 2023-24 school year at The Creek!!!
HCPS NEWS:
HCPS Back-to-School Kickoff event:
When: Aug. 11 from 4-8 p.m. and Aug. 12 from 9 a.m.-5 p.m.
Where: Fairfield Middle School, 5121 Nine Mile Road, Henrico, Va. 23223
Aug. 11 Back-to-School Kickoff activities include:
A DJ.

Kids' activities and engagement zone.

Giveaways.

Food trucks.

Free books for all ages.

Free school supplies (while supplies last).

Opportunities to meet and talk with school leaders.

Help with using Schoology and PowerSchool.

A table where families can register for school and complete online forms.

An HCPS job opportunities booth for prospective teachers, bus drivers, cafeteria workers, and other staff members.
Aug. 12 Back-to-School Kickoff activities include:
Three-on-three Hoop It Up basketball tournament (register by Aug. 8 at www.hoopitup.com/virginia).

An information and vendor fair (including information about division and community family resources).
Upcoming Events:
Aug. 10th Cougar Camp and Parent Academy 9 AM - 12 PM
Aug. 11th HCPS Back to School Kick-Off Event at Fairfield MS 4 PM – 8 PM
Aug. 17th HCMS Open House 11 AM - 4 PM
Aug 21st First Day of School!!!
Aug. 24th Fall Sports Athletic Meeting 4 PM in the Auditorium
Sept. 1st Student Holiday
Sept. 4th Student/Staff Holiday (Labor Day)
Sept. 12th Back to School Night 6 PM